Mushroom, Kidney Bean & Herb Stew (Vegan Ghormeh Sabzi)
Ghormeh Sabzi is the quintessential Persian recipe. Considered the national dish of Iran, this stew can take up the whole day to prepare! We have put the hard work in so you don't have to. 
Our VEGAN recipe is a stew consisting of a mixed fresh herb sauce, with mushrooms, dried limes & red kidney beans. Ghormeh sabzi will always hold a special place in our hearts & we can't wait for you to try it.
Perfectly paired with – Saffron Rice.
Vegan | Halal | Gluten free | Dairy free
INGREDIENTS
Mushroom, Fenugreek, Leeks, Parsley, Frozen Spinach, Coriander, Seaweed, Onion, Turmeric, Pepper, Salt, Curry Powder, Cumin, Kidney Beans, Dried Limes.
ALLERGY ADVICE
Produced in a kitchen that handles nuts, traces may be present.
COOKING INSTRUCTIONS
Best cooked from frozen. Cooking appliances vary, this is a guide only. Ensure that food is piping hot before serving. Do not re-heat.
OVEN FROM FROZEN
Pierce film lid. Place on baking tray. Preheat oven at 200℃/180℃ Fan/Gas 6 and cook for 30-35 minutes.
MICROWAVE FROM FROZEN
Pierce film lid. Heat on full power for 3 minutes (850W). Peel back film and stir through. Re-cover. Heat on full power for 3 minutes (850W). Stand for 2 minutes.
STORAGE
Keep frozen below -18°c. Once defrosted store below 5°c. Should this product defrost, keep refrigerated and eat within 48 hours. Follow the oven guidelines but cook for 25-30 minutes.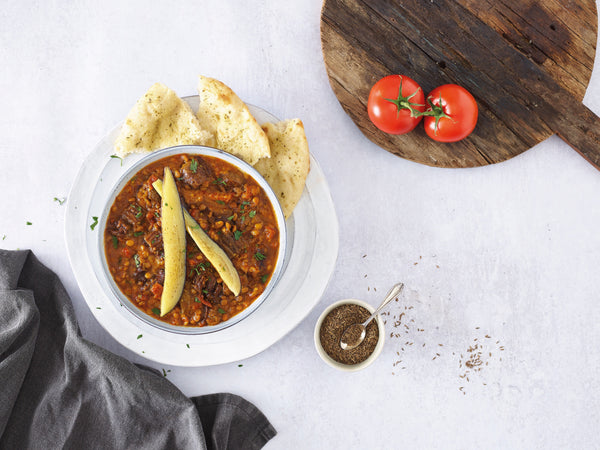 Follow us